Don't need a full cheesecake? These delicious gluten-free and grain-free mini cheesecakes are the perfect solution!
As much as I love cheesecake, I rarely make them. If I made a cheesecake just for the heck of it, I'd eat it all. And I don't need that! I used to make them for parties and get-togethers but when you don't have a car, those things get heavy after about 10 minutes of walking.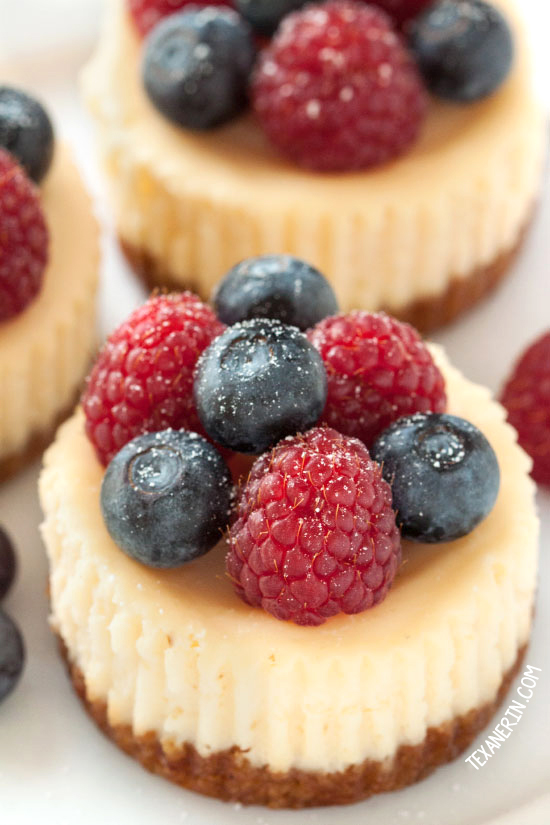 Not only that, but full-sized cheesecakes are so fussy. I almost always mess them up but mini cheesecakes? They're pretty difficult to ruin as long as you don't forget to line the muffin pan with muffin liners, which I may or may not have done the first time.
These grain-free mini cheesecakes freeze wonderfully well! They taste just as good post-freezing so you could even make them ahead of time if you've got room in your freezer. By the way, I'm totally in awe of anyone with space in their freezer. I think there must be a defective gene in my family because ours are always packed. Always!
As far as grain-free crusts go, I think this one is pretty awesome. Pre-baking them prevents a soggy crust, which seems all too common in almond flour based crusts. After baking the cheesecakes, the crust isn't exactly crisp, but it's far from soggy!
If you don't want to use almond flour, use any nut flour or nut meal you'd like. I've tried hazelnut meal and that was delicious. Then I tried making a chocolate hazelnut version by adding some cocoa powder to the cheesecake filling. That sounded like such a simple change but it came out horribly. Definitely don't do that.
Almond flour, sugar and butter on their own don't taste all that exciting so I added some lemon zest to liven up the crust. If you don't want to use lemon zest, add some lime zest, almond extract, or something.
Because I posted these gluten-free mini cheesecakes over on My Baking Addiction, I wanted them to be especially pretty so I just decorated them with some berries. It's really easy to plop them on top and be done with it. If you're not trying to impress anyone with your dainty cheesecakes, I suggest drowning these mini cheesecakes in this honey sweetened strawberry sauce.
Mini Cheesecakes (grain-free, gluten-free)